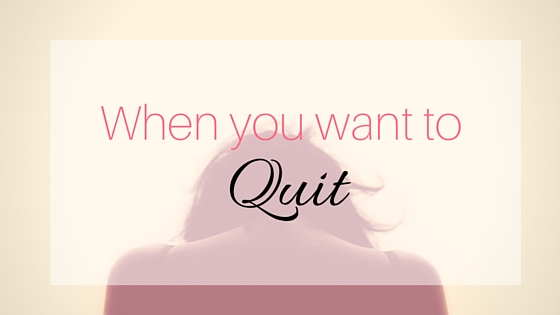 We've all been there at some point. You have a goal in mind. You get a plan in place. The wheels are in motion. Then you hit one bump too many and you're thinking maybe you don't want to do this anymore. Anyone? Just me?
I have definitely been there. Sometimes it's because the thing I'm going for is much harder than I'd imagined. Maybe there are lots of obstacles in the way. Who knows. Whatever the reasons, it just stops feeling like a goal worth chasing.
One of those moments hit me not too long ago. I have been working on several projects. Many of them are for my business. I was beginning to feel like I was doing too much. I questioned it all. The issues range from the struggles with building and growing a business to the flat out lack of time.
Even still, I don't give up. As I encourage other mamas to follow their dreams, this is one of my dreams. Being a source of motivation for other moms to keep dreaming, to allow it, to know you still deserve the dreams in your heart – that means something to me. That's part of what keeps me going. I have a few other reasons for hanging in there. If you're on the fence about something and/or ready to quit, I hope you can pull something from this post to help you stick it out.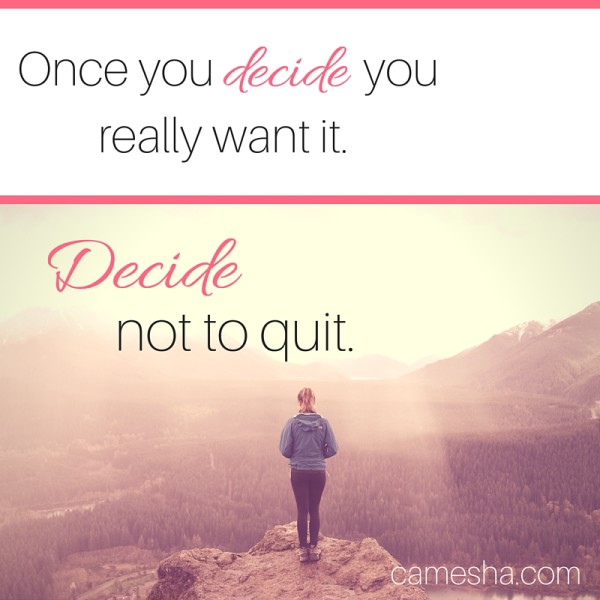 1 Talk to someone. That someone ended up being my husband. On a recent date night, I talked to him a bit about some of my frustrations and he was a great sounding board for me. He had lots of helpful suggestions and helped me to see things from a different perspective.
2 Walk away. Take a break from it. Just focus on something else or nothing at all for a while. The time away could give you renewed energy for whatever you're working on. If it's not your focus, you'll find inspiration for it subliminally in other things you do.
3 Re-assess. Think about what it is you're working on and alternatives to get it done. Maybe your goal is a marathon, but it's feeling way too overwhelming if you've never done it before. There's no shame in doing a smaller race first. Maybe that's your alternative. You'll still get some of the satisfaction, plus the training for the smaller race is still helping you prepare for the big marathon.
4 Think about why you started. Go back to your why and write it down. When you see it on paper, it makes it real.
5 Decide where what you're working on falls in line with what you're about. Is it something you're good at? Is it something you enjoy? Is it something you just have to do? Why? If you're not making the progress you'd like see what you can do to change your approach.
I'd love to know what you think? What keeps you from throwing in the towel?