I need to buy groceries, wash the Tae Kwon Do uniform, clean the house, sort through the clutter and give away lots of stuff.
I need to call my granny, check on my aunt, follow up with my friend and get my daughter down for a nap.
I need to pack lunches, research preschools and buy the kids new shoes. I need to take my daughter to gymnastics and hope she likes it (fingers crossed). I need to schedule my sons Tae Kwon Do make up classes and my daughters art classes. My mom brain is on overdrive. At.All.Times. Does your brain work like this? Is mom brain a condition?
I want a t shirt line one day. I need to respond to publisher about a new book. I'm working on a children's book. I want to write a novel – maybe. I'd like my own YouTube show. I've yet to find time to shoot a video. I'd love to spearhead my own conference to inspire moms. I jot down ideas. I piece together the dream. I read. I research. I work. I dream bigger.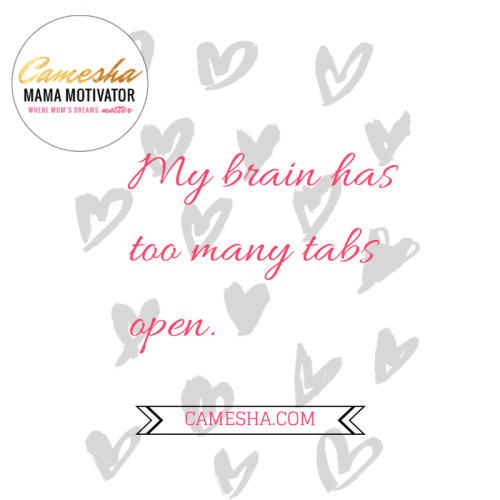 I need to do laundry, at least two loads a day, or we'll be drowning in it. Are my sons school uniforms clean? I need to schedule a family picture before our membership expires. I need to figure out what we're wearing in the family picture.
Time to get more groceries, we've used all the bread. The dog is low on food. Might as well get more of that too. Did my husband feed the fish? Time to make dinner. I wish I had a meal plan. Why don't I have a meal plan? Note to self: create a meal plan.
I've got to get my babies to bed. It's time to wind down. While they sleep, I work. I build my dreams brick by brick while they sleep. Mommy is a dream chaser. They may not always see it all, but they will. They'll see it and they'll know that only with work do dreams become real life.
When do you carve out time for your dreams?