You may not be guilty. It could just be me. I've been guilty of following so many rules. Sometimes too many rules.
Don't say this. Only say that. Make sure to try this. Never try that.
It can be hard to navigate under so many "rules". It could also be hard to remember them all.
Why do we even have so many guidelines? They set order, for sure but they also create restrictions. Me no likey restrictions. How much is too much?
I've learned that in order to achieve anything, sometimes you have to break a few rules. Especially if you're a dream chaser trying to create a life you are in love with. And that's the goal, right? That's the point of all these dreams.
Here are FIVE rules you should start straight up ignoring TODAY.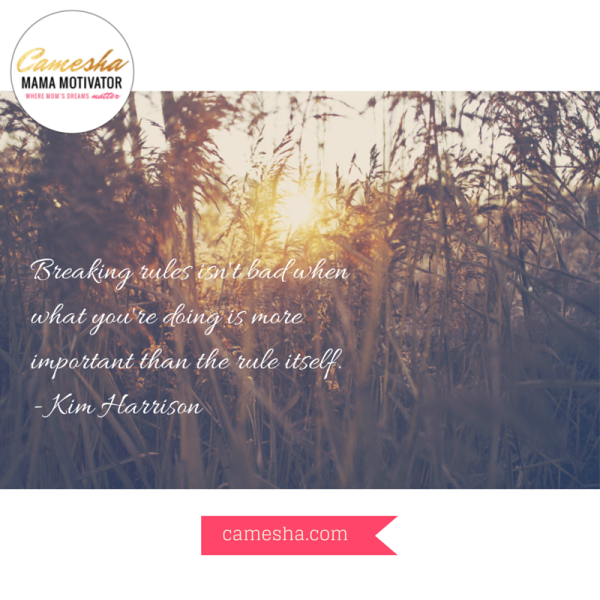 Saying yes to everything – You can't be everything to everybody. Be choosy about what you give your time and talent to.
Just be it – Whatever "it" is. Start living as if you've already achieved it. If you want to be a business owner, start doing things that a business owner would do. It's kind of "fake it til you make it". I prefer to see it as stepping into your dream. If we start intentionally living out those things we want, they have no choice but to become real. It's all about action.
Go for it before you're ready – Sometimes plans are really a form of procrastination. Trust me, I know this! Sometimes you have to let go of the idea of "getting ready" and just go for it. It'll force you to figure it out.
Wait for permission – I think that this is something we learn as kids. We are taught to ask for the things that we want and then wait for permission to receive them. That's still a good idea in many instances. There are times though that you need to know the only one you need permission from is YOU.
Not sharing what you think – You have opinions. We all do. There are times, especially as women, that we pull back. We shut ourselves up when we really should be speaking up. Please know that your ideas, your opinions, your thoughts matter. What you have to say could make a huge difference. If everyone is going left but you know they should go right – say so.
Speaking of sharing your thoughts… (I'm so clever), share your thoughts with me on this. Have you been guilty of any of these? What rules do you need to break?
*This post was inspired by Ali Brown*