It's not what you say, it's what you do. That's the thing with kids, right? As many times as I I tell my son not to shout, if I'm raising my voice, he doesn't hear me. It's hard to say not do the very thing I'm doing. That's the thing about kids. They are little mirrors that reflect the good in us but they also show us the bad.It's up to us to change those things that don't look so good.
Like I mentioned yesterday, there are definitely some things I want them to see me do. Others I need to work on. Not so I'm perfect but instead, making sure there's more good than bad. Working on being a better mom, will absolutely make me a better person. Win win.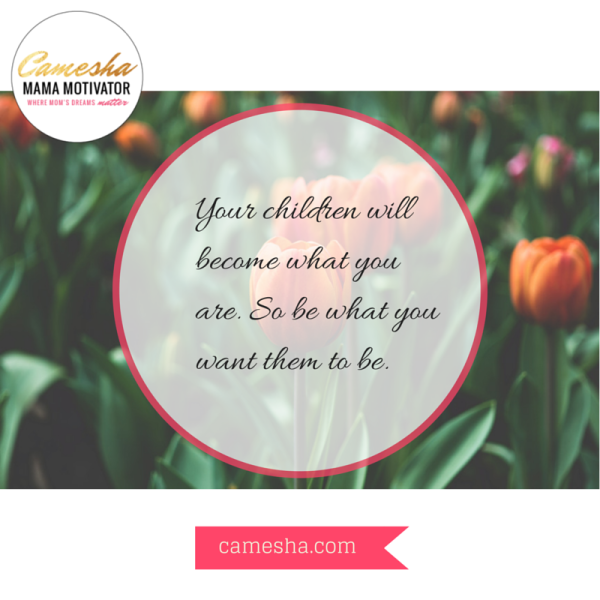 Here are 10 things I hope I'm teaching my babies:
Never give up – I worked a temp job for two years while going after my dream job with E! I finally got in after interviewing for three different positions over two years. I've learned that if it's something you really want, you CAN NOT stop working for it. It will be worth the struggle.
Dream outrageous dreams – Along the same lines of the above, I moved here to Los Angeles after quitting my television job in Ohio. I didn't have a job when I got here, I only had my dreams. Outrageous dreams are worth pursuing.
Stay curious – My mother taught me from a very young age that reading will take you anywhere. I have taught myself so much and gained so many new skills just by being curious and always willing to learn.
Give yourself grace – This is something I work on daily. I am SO hard on myself. It's those outrageous dreams combined with the sometimes snails pace it takes to get there. I tend to wonder if I'm doing enough.
Be yourself – It wasn't until I got into my 30's that I really feel like I got real comfortable with me. As I am. Flaws and all. I admit them. I work on them. Perfection is not the goal, though.
Know you are worthy – Another lesson I wish I had learned sooner. Knowing you are worthy of every dream you have. Worthy of love and all good things. Once you know that, it's REAL hard to settle for anything less.
Define yourself –  People tend to like to find boxes and then stick you in it. lol Whether they know you or not they need to make you fit somewhere. Many times people have dropped me in a box only to apologize later because I'm not who they thought I was.
Be grateful – In short, life is a gift. When we receive a gift, we need to say thank you and show gratitude.
Work hard – Just because we have big dreams doesn't' mean that they'll come true magically.
Give love – Simply put. You get what you give.
Tell me, what do you hope your kids are learning from you?