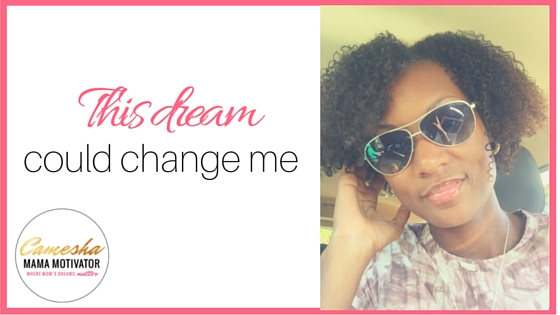 For most of my adult life people have randomly asked me where I'm from. I've always answered Detroit. They'd give me a probing look and ask where I'm "really from". So, I'd say I'm "really" from Detroit. That's all I had. They'd make guesses as to where my ancestors may have been from. I've heard somewhere in the Caribbean (from my Caribbean professor), Senegal (from a Senegalese guy at the gym) and a number of other places. They all sound great and they may have been right. I didn't know.
My grandfather on my moms side was born in 1897. Let that sink in.
He passed away when I was about 5. On all records, he was always listed as negro. His father was born into slavery. As far as we know, there's no birth certificate for him. That's the story for my family for the most part. We have bits of information but no one was given specifics as to where we came from.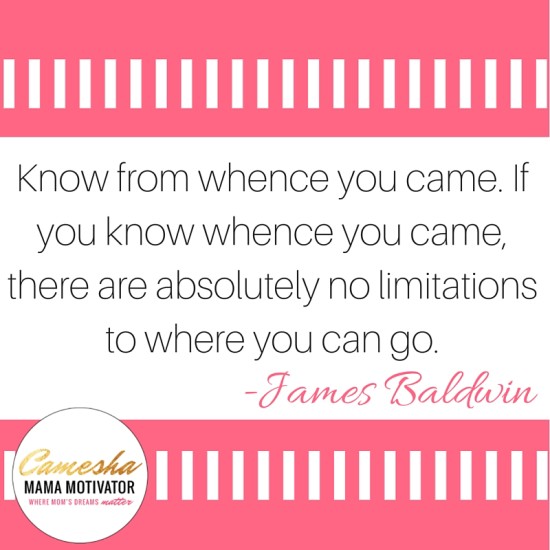 For the longest, this has been something that bothers me. I wanted to know more. Is there a reason my cheekbones are so high? Is there a reason I'm so tall? Why is my hair crazy curly? How far back do all of these features go? It's been a dream of mine to know more. I was always a bit jealous of my friends who knew exactly where their ancestors were from and when and why they came here. That felt like such a gift, a luxury.
With all of that in my heart and mind, my husband and I decided to have our DNA tested and traced back to it's origin. It was something we'd both been curious about for years. We wanted to be able to pinpoint a place for our kids. No need for them to grow up with the questions we had when there's technology that can give us answers. We used AncestryDNA.com to start our journey to our beginnings. I can't tell you how excited we were to do this and how hard it was to wait for the results! Here are mine!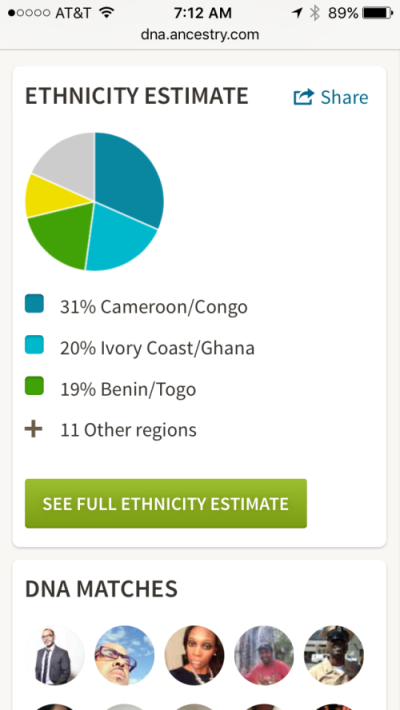 Opening the results was like opening up the tiny box on Christmas that you know is a beautiful piece of jewelry. I stared at it. I analyzed it.  I looked at the map and just imagined what the people are like where I'm from. I got the biggest thrill out of being able to type the words "where I'm from". That feels good. I talked to a friend of mine who told me that he wasn't surprised by my results. When he lived in D.C. he knew some people from Cameroon and he said he can see similarities in us physically as well personality-wise. I know that's not scientific, just his observation, but it still felt like a connection. A tiny connection.
So what do we do now? Well, my husband and I plan to look at both of our backgrounds to find any things that we can bring into our family life. Whether it be a native celebration or a traditional meal. It feels awesome to be able to share that with our children. I've been doing a little research to find out more about the areas where my roots lie.
One cool thing about doing all of this is AncestryDNA.com tells you of other people who share your DNA roots. Those are the matches you see above. You can choose whether or not to reach out to them. I'm pretty sure I'm going to try and connect with a few. I told my mom about one of the matches that's listed as a cousin of mine, she was skeptical. Then I told her the relative they say we have in common and she knew that name! We'll see how this goes. It's been a cool ride and such a feel good journey. I wanted to share it here.
Have you done anything like this? How far back are you aware of your family roots?
P.S. This post was not sponsored in anyway. I just wanted to share my experience.