"We're all desperately waiting for you to just do it.  What are you waiting for?

Signed,

The World
Is that the kind of sign we need to get things moving? Does the world really  need to cry out for us to set out on the path of turning dreams into reality? The truth is, the world really is waiting for you to just do it – whatever "it" is. Whatever it is you want to offer the world, there is someone out here waiting for it. What you have to offer could change. their. life. Seriously, think about that. If you decide that it's too much and you can't get to it or it's too hard you know what happens? A lot of somebodies miss out on something pretty special. Think about the people who have changed your life with their gift. It could be a pastor, a singer, a teacher or Oprah! If they hadn't followed their heart and their passion, you would have missed out. Make sense?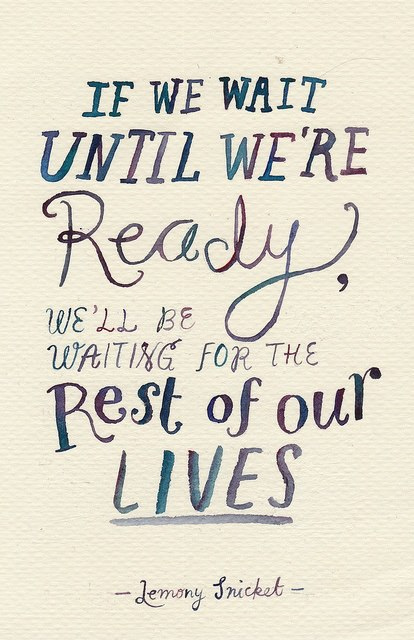 Every year, so many of us make resolutions, intentions and commitments to rock out life in some way or another. We start off strong. Then around March we start to slow down. Our burning ambitions become a slightly visible flame. So what happened? Over the years, I have been able to point the finger at a few things. Sometimes it's as simple as life. It gets hectic, it gets complicated, it changes before we are ready to make the adjustment and we have to roll with it. So, our original demands of ourselves become back burner suggestions at best. It happens. If you stop altogether now, you'll be that much further behind and probably totally give up eventually. Don't do it!
Consider this your permission slip to take those goals and dreams off the back burner and make them a priority again. Maybe you can't take on the whole enchilada but how about one small piece of it? Everything is easier to chew in bite sized pieces, right?
Here's what that looks like for me. Instead of taking on the task of writing a whole new book right now, I've decided to work on a few small things at a time. I'm still keeping the writing mojo going but giving the time to my family that they need too. It's a win-win. I do what I love and my family still gets what they need.
So tell me, how can you take bite sized pieces toward your dreams, goals right now?