On a recent trip to Target (seriously, I spend WAY too much time there), I stopped by the cards section and noticed a card about living the life you deserve. I was all offended. Yeah, the idea of it all was nice but this card was in the retirement section.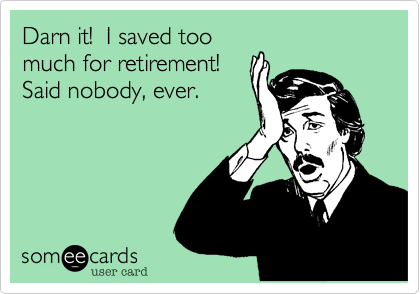 It made me think about the way things usually go. People work all of their lives toward that pie in the sky called retirement. That's supposed to be when you are really able to live and enjoy life. It seems to me that doesn't work. If we wait until retirement to enjoy life, we've already missed so much. For my generation, retirement seems SO far away. We are going to need millions to be able to live comfortably. Some people fully expect to work until they are 70 years old.
Yes, at 70 years old is when you can begin to enjoy and life the life of your dreams. For most people, 70 years old finds them tired and many have health issues. How much energy do you really have at that point to travel, pursue your passions and "enjoy life"? Yes, that card had ALL of this racing through my head. It seemed to suggest a "dream now, live later" life. I am fully on board with a "dream NOW and do it NOW" way of life. (tweet this) I have all of these ideas and desires for my life NOW. I can't get to every single thing right now but I'm determined to do as much as I can.
By the time I'm 70 I want to be still enjoying my life but I really want to be at a point where I'm not chasing myself and trying to do things that I've wanted to do my whole life. I'd rather that time be spent still pursuing and dreaming but also doing a great deal of reminiscing about all of the dreams I'd made a reality. That's my goal. What's something that you've put off to do later that you could do right now?