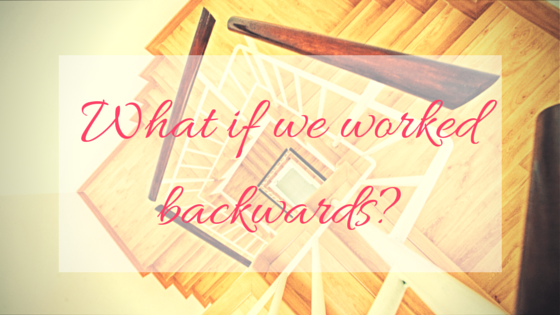 What if you could work backwards. See into the future. Would you like to take a glimpse into your life in say 20 years? What will you be doing? How will you be living? Maybe you'll be retired. The kids will have moved out. Then, what's next?
That's usually the time people start to try and "live", right? That's when you hear people talk a lot about travel. It's when you try and see all the places you've always wanted to see. People even talk of finding a dream home on an island somewhere.  It all sounds great! This is also the time we hear people talk about the "what if's". "I should have". "I would have".
Why do we save so much of the good stuff for later? Why not get a sampling of what you want along the way?
If you could see 20 years from now, how would you want to be living? Here's the challenge, take that picture and work backwards. I've got a clear picture of what I want for my life in the next 5-10 years but stretching out to 20 is a big one. I'm pushing myself to do it though because I want to make the decisions now, in my 30s, to set the wheels in motion for what I want in my 50s.

Break the vision down in terms of career, financial, family, etc.  Determine what it is you want to see for each of these areas. Then break it down, break it down. You need to find small ways to make big impacts so that the type of life you want to live doesn't feel overwhelming. Use a time frame to check in with yourself about where things are going and where you may need to step it up.
One way to keep it simple is to start this way: Try looking backwards at your life and think about the things you don't want to be "should have", "what if" moments. Pick one of those things and do it now! Once you've done that you can build from there.
The two things that stand out for me are long term family and financial goals. I'm working on those regularly to make sure I'm making real progress where those are concerned. It works better for me to focus on a couple of things at a time. I tend to see things in the big picture and try to do too many things at once. Breaking down what I want long term into a couple of things at a time works for me. There are lots of things on the plate but by spending time on two things for a specified period works for me. Then I can rotate and give other things my attention for a time and keep that system going so that everything gets my attention.
I'd love to hear your thoughts. What's one thing you want to see for yourself long term?