Want my confession?
The nerve of me. I started this site with the bold name of "Mama Motivator". That was one gutsy move to say the least. You can't set out to motivate other moms without being motivated yourself. You can't inspire and motivate mamas to find their passion and follow their dreams if you aren't doing the same.
If I'm honest, things have gotten a bit tougher for me to do every since I launched this site. While they've gotten tougher, things have also gotten clearer. Does that make sense?
I feel like when you put yourself out there to do something, you will be tested on that very thing you say you're about. That is what I'm dealing with right now. In order for me to be some source of "get it, girl", "you got this, mama" cheerleader. I have to cheer myself on. If I don't then I can't offer you suggestions for cheering yourself on when things get tough.
So while it's been harder for me to get things done and sometimes I struggle to keep my momentum, I also have clarity. I have never been clearer on what my goals are and what the big dream is for me. Because I don't have a huge amount of time to dedicate to making things happen, I have to be real specific about what I want and use my time wisely. In times like this…this has to become your mantra!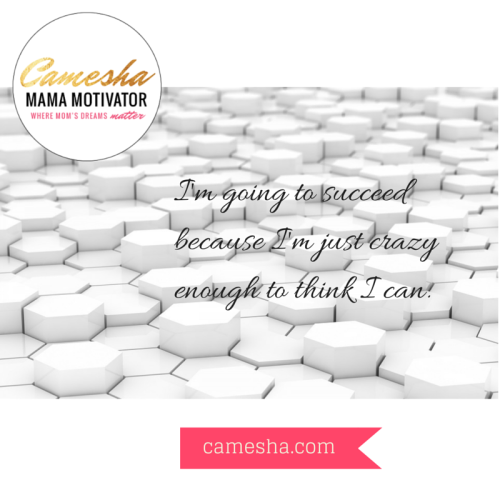 It's hard to do anything while being the full time teacher, caretaker, short order cook and everything else my family needs from me. Finding time to write, promote and create can be a struggle. I am knee deep in a new e book that I can't wait to share with the world. It's hard to work on that and actively blog.  I have had it on my list for a while to release my book of poetry on Kindle. It is finally a reality. I can't tell you how to knock dreams out as a SAHM with two kids if I'm not living it. I'm living it. I'm struggling through it. It's not always pretty. The dream is real though. Creating a spaces that inspires, motivates and empowers moms is real for me. I live it, I breathe it, I am it.
Here are some ideas to help you keep going when you feel like your get up and go, got up and went.
1 Remember why you started. I started this site with the intent of really being an ally to other moms. I want to see us take those things we hide in our hearts and present them to the world. I seriously think about you guys all the time and things I want to share. To say  I'm passionate would be an understatement. When I feel like it's too hard to keep this going, I remember why I started.
2 Walk away. Whenever ever you are passionate about something, when it's your dream, it's easy to let it consume you. It's easy to get lost in the bigness of it all. It's a dream so big that it's hard to see your way through it. Walk away. Taking a break from it all will give you the space to clear your head. You can think about other stuff and enjoy other things. In the process you'll secretly be getting doses of inspiration and creative nuggets that will help you tackle this again with new eyes. It probably won't seem so overwhelming anymore.
3 See the big finish. Think about what it will be like when you've made it. When you've made the impossible totally doable. You'll be one of those rare people that gets to say, "I did it!" You'll also have the honor of being a huge inspiration to others.
What zaps your motivation and how do you get back on track?